DISTINGUISHED CIVIL ENGINEER AWARD
David Shropshire, P.E., P.P.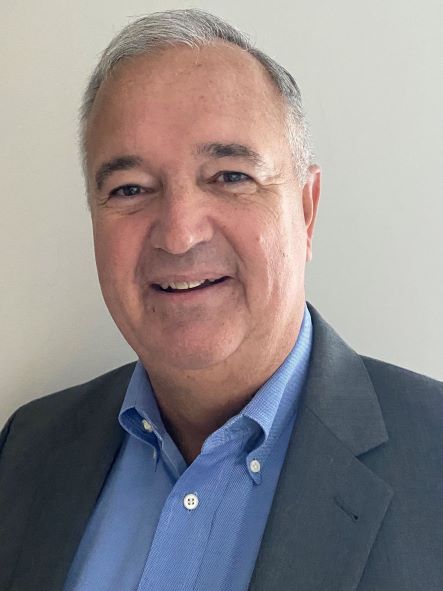 Dave has specialized in traffic engineering and transportation planning since 1980. He formed Shropshire Associates LLC (SA) in 2000 and currently serves as the Managing Partner. Over the course of his career, he has worked on development and roadway improvement projects throughout New Jersey and also in Pennsylvania, Delaware, Maryland, Vermont and Texas.
Dave is a Professional Engineer in New Jersey, Pennsylvania and Delaware and a Professional Planner in New Jersey. He earned a Bachelor of Science in Civil Engineering from Virginia Tech and a Master of Science in Civil Engineering from the University of Arizona.
Professionally, Dave has also served on a number of Institute of Transportation Engineers Technical Committees and was an instructor for the Traffic Engineering section of the Certified Municipal Engineers' Program. Personally, Dave has been married to Lynne for 43 years and enjoys being a parent to Cris and Allie, and a grandfather to Reid and Dillon. In addition, Dave has served on the boards of several church organizations along with the Saints Prison Ministry.
Education:
Virginia Polytechnic Institute and State University Bachelor of Science Civil Engineering
University of Arizona Master of Science in Civil Engineering
Work:
Shropshire Associates LLC (2000 – present): Managing Partner
REGISTRATION:
Registered Professional Engineer: New Jersey, Pennsylvania, Delaware
Registered Professional Planner: New Jersey
AFFILIATIONS:
Institute of Transportation Engineers Technical Committees
Certified Municipal Engineers' Program – Traffic Engineering Instructor

---
GEORGE STOUT AWARD
Scott D. Batterman, Ph. D., P.E.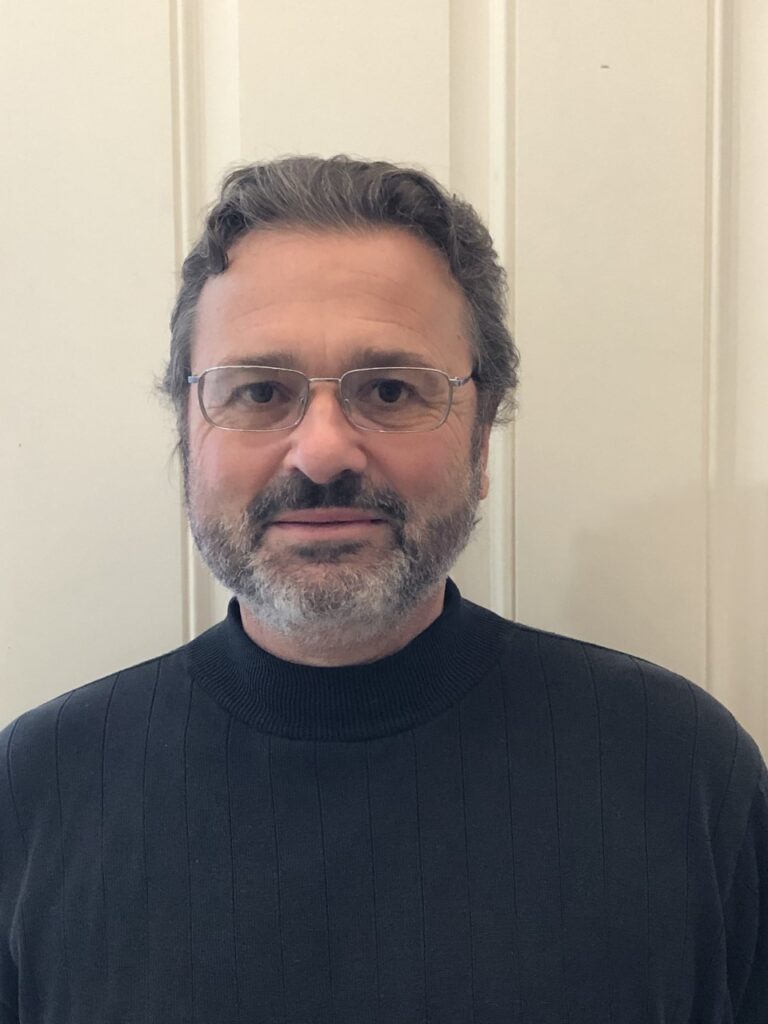 Dr. Scott D. Batterman is a nationally recognized forensic engineering consultant and Fellow of the American Academy of Forensic Sciences (AAFS). He is a past chair of the Engineering Sciences Section (ESS) of the AAFS and has served on the Board of Directors of the Academy. He has also served as President, and on the Board of Directors, of the South Jersey Branch of the American Society of Civil Engineers (ASCE).
Dr. Batterman earned his B.S.E. in Civil and Urban Engineering, his M.S.E. in Civil Engineering and his Ph.D. in Mechanical Engineering and Applied Mechanics, all from the University of Pennsylvania. Dr. Batterman has held adjunct faculty appointments in the Mechanical Engineering departments at Villanova University and Temple University. As an Adjunct Professor at Temple University in the Department of Mechanical Engineering from 2010 – 2014 he taught both undergraduate and graduate courses in engineering mechanics. He also taught the first course in Forensic Engineering offered at Temple University. Dr. Batterman has lectured extensively on the subjects of forensic engineering, accident reconstruction and injury biomechanics, and has co-authored numerous publications in those fields.
Dr. Batterman is a registered professional engineer (P.E.) and provides engineering consulting services through his company Batterman Engineering, LLC in Cherry Hill, NJ.

Education:
University of Pennsylvania Bachelor of Science Civil and Urban Engineering
University of Pennsylvania Master of Science Civil Engineering
University of Pennsylvania Doctor of Philosophy Mechanical Engineering and Applied Mechanics
Work:
Batterman Engineering, LLC – Managing Partner
AFFILIATIONS:
American Academy of Forensic Sciences – Fellow
American Society of Civil Engineers South Jersey Branch

---
DISTINGUISHED CITIZEN AWARD
Sean Earlen, Vice President- Real Estate, Environmental & Public Affairs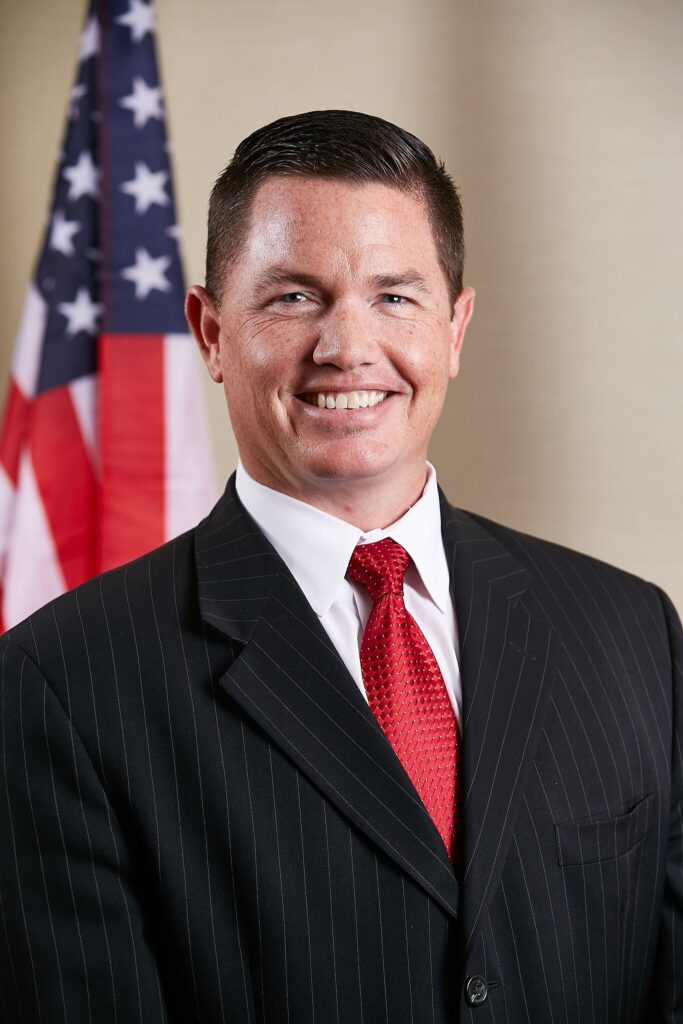 Mr. Earlen wears many hats as Silvi Group Companies' Vice President of Real Estate, Environmental and Public Affairs. Silivi has operations throughout Southern New Jersey from Mount Holly in Burlington County, Eagleswood in Ocean County, Berlin in Camden County, Monroe in Gloucester County, to Port Norris in Cumberland County. In Earlen's role he contracts civil engineering services for multiple tasks at mining, processing, transportation, manufacturing and shipping facilities.
Earlen's understanding of the regulatory processes needed for land development and construction permitting comes from years where he has been a member of the Land Development Board, Township Committeeman as well as the Mayor of Lumberton Township. Earlen has also served as Commissioner on the New Jersey Pinelands Commission, including serving as Chairman from January 2016 to May 2019.
Today, in additional to his duties for Silvi, Earlen is the Chairman of the Burlington County Republican Committee and finds time to hold a Member position on the New Jersey Building Authority.
Earlen is a South Jersey citizen of distinction and one that understands and advocates for the Civil Engineering community.
Education:
Delaware Valley College Bachelor of Science Business Administration
with Minor Degree in Criminal Justice
Work:
Silvi Group Companies (2008 – present): Vice President- Real Estate, Environmental & Public Affairs
AFFILIATIONS:
Burlington County Republican Committee- Chairman
New Jersey Building Authority- Member, Board of Directors
Lumberton Township Education Foundation- Founder & Member, Board of Directors
Sacred Heart CYO Baseball & Softball- Member, Board of Directors
Multiple Sclerosis Association of America- Member, Board of Directors- Annual Golf Outing Fundraiser
Lumberton Township Civic Association- Member, Board of Directors
Rotary International- Montgomery/Rocky Hill Chapter- Associate Member
---
OUTSTANDING CIVIL ENGINEERING PROJECT OF THE YEAR
Chapel Avenue, Camden County, NJ
Owner: Camden County Engineers
Designer: French & Parrello Associates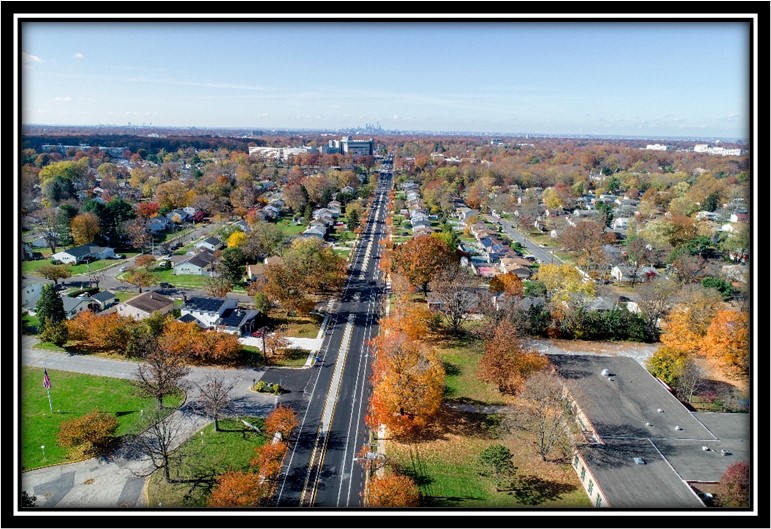 French & Parrello Associates (FPA) was retained by Camden County to design improvements to 1.9 miles of Chapel Avenue (CR 626) between Haddonfield Road (CR 646) and Kings Highway (NJ Route 41) in Cherry Hill Township, Camden County, New Jersey. Chapel Avenue has numerous community facilities including Cherry Hill West High School, Kilmer Elementary School, Chapel Avenue Park, Jefferson Cherry Hill Hospital, multiple houses of worship, and single family homes within the project area. The presence of these community facilities leads to a high number of pedestrians and bicyclists along the roadway, which includes children attending both schools and residents accessing the park. A high number of emergency vehicles utilize the roadway to access the emergency room at the hospital. Additionally, throughout the project Chapel Avenue is lined with cherry trees, a defining element and source of pride for Cherry Hill Township.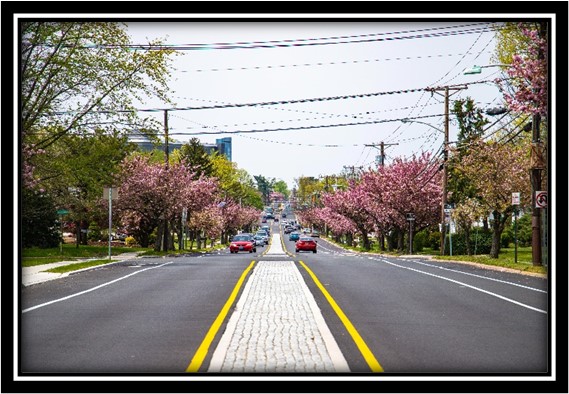 Under existing conditions Chapel Avenue was comprised of a single travel lane in each direction with a pavement width ranging from 42ft to 49ft wide.  The posted speed limit is 25mph, however actual speeds regularly exceeded this because of the wide lane widths.  Through a series of stakeholder meetings and a public information center, FPA refined the design and the preferred alternative selected followed a "complete streets" approach, focusing on reducing travel speeds while improving pedestrian accommodations and
bicycle facilities, and incorporating streetscape elements.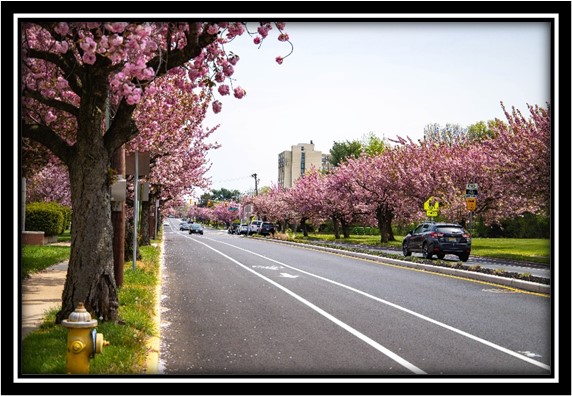 The proposed design provides a 12ft wide travel lane and 5ft wide bicycle lane in each direction, 8ft wide parking lane on the westbound side, and a variable width flush stone median throughout which allows residents to make left turns into their driveways across the median. The flush median was replaced with raised landscape islands at several key locations, including in front of the hospital, to providing locations for plantings complementary to the cherry trees. The traffic signal at the intersection with Cherry Hill Boulevard was upgraded to improve pedestrian accessibility and the traffic signal at Towers of Windsor Drive / Kilmer Elementary School driveway was replaced to improve pedestrian accessibility and traffic operations. Damaged segments of sidewalk were replaced, and new ADA compliant curb ramps were constructed at all intersections.
Construction of the project was completed utilizing federal funds through NJDOT Local Aid Region 4 and a shared services agreement with the Township of Cherry Hill for signals and sections of sidewalk. The contractor for the project was Lexa Concrete and Remington Vernick Engineers provided construction management and inspection services.
---
OUTSTANDING CIVIL ENGINEERING PROJECT OF THE YEAR (HONORABLE MENTION)
Jimmie Leeds Road (CR561) – Sec 3 Reconstruction, Galloway Township, Atlantic County, NJ
Owner: Atlantic County
Designer: Atlantic County Engineering Division
The Commercial and Institutional corridor between exit 41 of the Garden State Parkway and the main entrance to Stockton University was in dire need of resurfacing. But a mill/pave project would not have satisfied the many road deficiencies that had emerged over years of development on and connected to County Route 561, known as Jimmie Leeds Road. The corridor that serves as the frontage to Stockton University, the Mainland Campus of Atlantic Care Reginal Medical Center, Bacharach Institute for Rehabilitation, Seashore Gardens Living Center, and many other commercial and medical facilities spurred increasing traffic volumes, congestion, and many safety concerns.
The corridor had intermittent left turn lanes for some of the developments, but some sections of the roadway had eroding shoulders acting and "blow-by" lanes. A New Jersey Transit bus route had stops in both directions within the corridor adding pedestrians to the mix, with segments of sidewalk missing that forced those pedestrians to traverse onto the road shoulder. The majority of the curb-ramps within the County's right-of-way were no longer compliant with the American Disabilities Act (ADA) standards, and stormwater management systems were needed to address some poor drainage and ponding.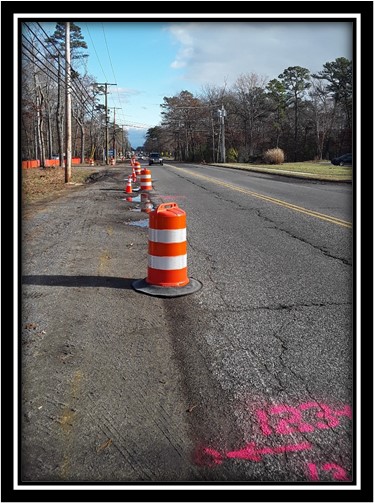 To meet the many needs identified within this corridor, the Atlantic County Engineering Division scoped the project and placed it in the que for redevelopment. Two threshold hurdles identified early on, looked to delay the needed project. One issue was that additional right-of-way was needed from private entities and the New Jersey Statehouse, who controls the properties of Stockton University. The second was that the project needed approval by the New Jersey Pinelands Commission.
Undeterred, the Atlantic County Engineering Division began the process of having the corridor surveyed, obtaining soils data needed for infiltration systems, and designing the new geometry, believing that the project would go to construction in approximately two years.
The road section was designed with one lane in each direction, with full bicycle compatible shoulders and a continuous center left turn lane. The existing traffic signal upgrades included new camara detection, pedestrian pushbuttons and signals. All curb ramps were to be upgraded, and the missing sidewalk sections connected.
Events however changed that timetable and put pressure on the County to speed up their efforts. The public was becoming increasingly vocal about the roadway condition and the local government; Galloway Township voiced great concerns about the rideability of the road surface and needs to upgrade the traffic signal at the hospital's entrance. This ramped up the County's efforts to expeditiously resolve the right-of-way acquisition and reduce the timeline. Unfortunately, as the design team was advancing the project, and the County's Planning Division was obtaining appraisals and preparing application to the New Jersey Statehouse, a more tragic incident occurred which highlighted further the urgency of the project, but added more tasks to an already complex project.
Unfortunately, a pedestrian heading to work in the early hours of the day, was struck and killed crossing the roadway after being dropped off by a Transit bus. This incident caused the design team to re-think the NJ Transit stops, which included adding wider pavement for all stops, a pedestrian flashing beacon and crosswalk at a mid-block location, and assessment of the street lighting.
The stormwater management system required massive porous pipe systems to control and infiltrate the increase in stormwater, which was a major issue to be resolved to comply with the New Jersey Pinelands Comprehensive Management Plan. Being a public project, the approval required a public hearing at a Commission meeting.
All the while, as the County's design team was completing plans, preparing stormwater computations, preparing specification and the bidding package, the public continued their cry of displeasure. Or countless occasions the County Engineer; Mark Shourds, PE was needed to address the concerns and the contemplated timeline for the improvements.
Based on the Pinelands Commission letter dated September 18, 2019, the project went to bid, even before the Commission's public hearing scheduled for October 11, 2019 occurred. The bids were received on September 26, 2019, with a low bid awarded at a cost of $3,708,810.08. Continuing to fast-track the project, after the Pinelands Commission public hearing, a pre-construction meeting was held on October 28, 2019. The Notice to Proceed was immediately issued on October 31, 2019, establishing a November 12, 2019 start date.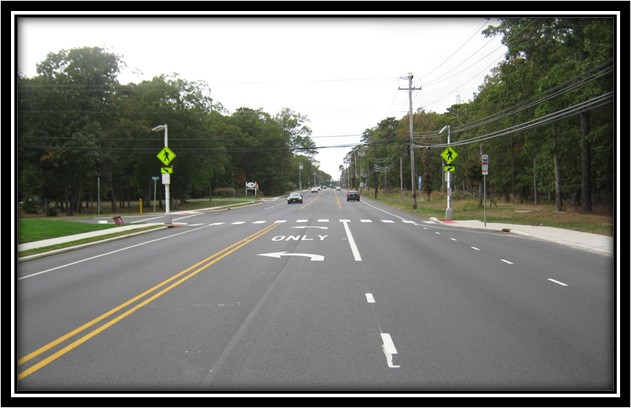 As during most roadway project, utility conflicts required redesign, the County worked with the property owners on inter-connecting improvements, and the traffic control necessary to provide access to the hospital was maintained throughout. The contractor: L. Feriozzi Concrete Company met the Final Project Completion date in August 2020 satisfying a great number of shareholders in this public project.
---